Floor Plan
4F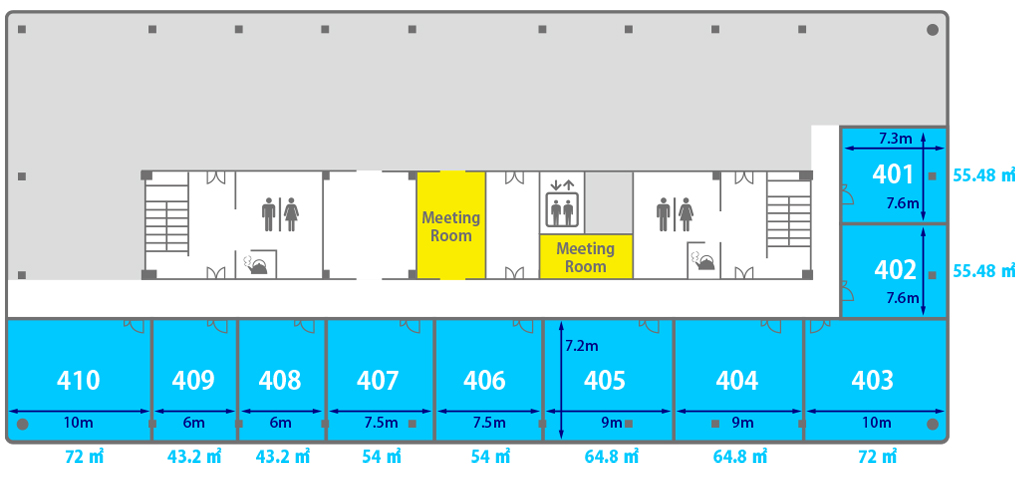 1F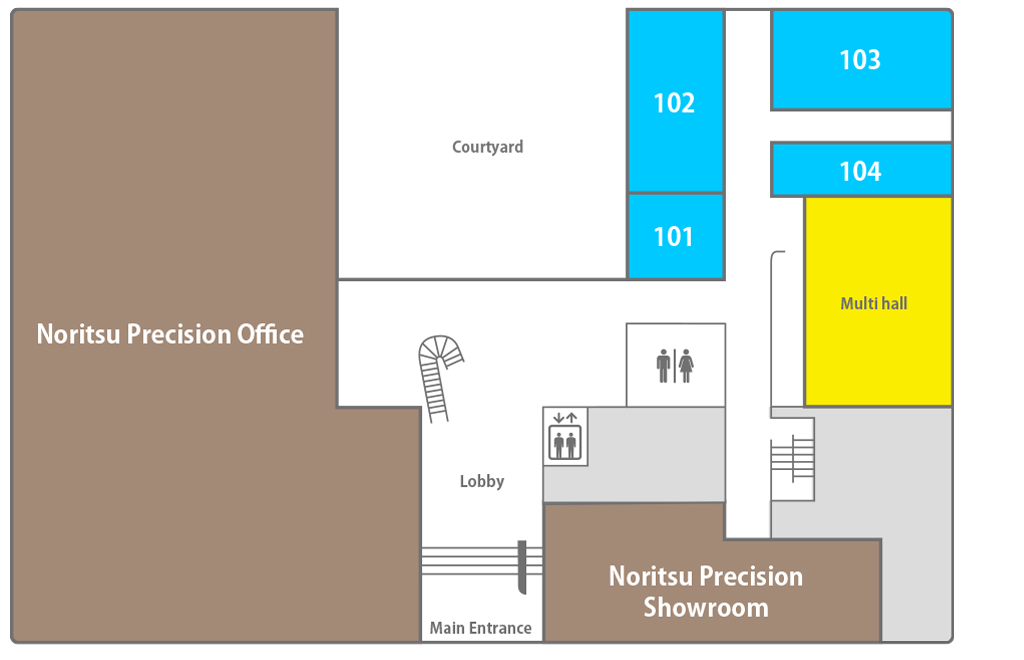 Photos
Rent fees
Room
number
Rent
(JPY/month)
Rent
(JPY/month)*
Common service expense
(JPY/month)
401
194,200
97,100
15,000
402
194,200
97,100
15,000
403
252,000
126,000
15,000
404
226,800
113,400
15,000
405
226,800
113,400
15,000
406
189,000
94,500
15,000
407
189,000
94,500
15,000
408
151,200
75,600
15,000
409
151,200
75,600
15,000
*With subsidy from Wakayama Prefecture. Available if you meet the conditions below;
Already established company outside Wakayama.
Less than 10 years of establishment.
Already invested from Venture Capital(s) with JVCA (Japan Venture Capital Association) membership.
Equipment and facility
Facilities of 4th floor
Specification
Detail
Floor Space
43~72㎡
Ceiling Height
2.6m
Wall Finishing
Each room is separated with steel partition.
Wall paper is attached on plasterboard around pillars.
Floor Finishing

OA floor (material:calcium carbonate,

thickness: 2.3mm)

Door opening
1,200mm × 2,100mm
Max. load weight of the floor
Approx. 300kg/㎡
Power Supply
Single phase 3 wire 100V/30A(40A for Room 403 and 410)
Each room has 3 electrical outlet.
Lighting
Approx. 550 lux
Air Conditioning
Room 401・402・408・409:5 horsepower
Room 406・407:6 horsepower
Room 404・405:8 horsepower
Ventilation
Each room has window.
air handling ventilation in hallways.
Phone/ Internet
Tenant company have to make contract(s) individually.
Office details
Meeting room
Capacity of 4~8 people ×3 rooms ※Available without any charge.
Elevator
1 evelator/Capacity up to 15 people(Max. load: 1,000kg)
Door opening:900mm×2,100mm
Security
With automatic security system, tenants can enter the building 24/7.
Visitors are accepted on Noritsu Precision's business days.
Office Kitchenette
2 common kitchens with water supply and induction cooker.
Fantastic Wakayama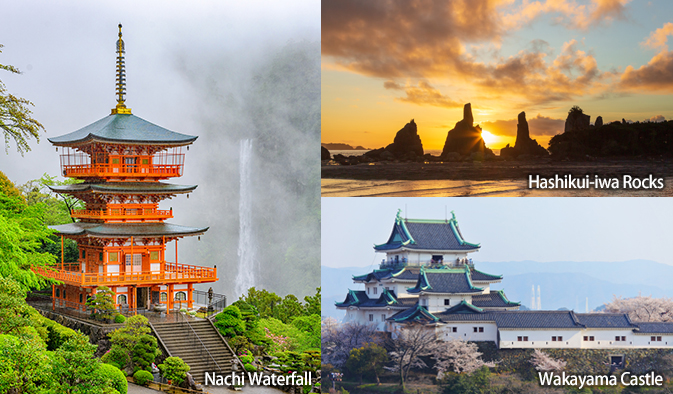 Wakayama is in Honshu's Kii Peninsula. It's been valued as an important area throughout Japanese history, as a holy ground since Japan's beginnings and a strategic region in the feudal era.
The Wakayama castle grounds and its surroundings are still an impressive reminder of the city's history and worth a visit. Yoshino and Omine, Kumano Sanzan, Koyasan and the connecting pilgrimage routes are a UNESCO World Heritage site.
For more information about Wakayama, please visit "The Official Wakayama Travel Guide".
The Official Wakayama Travel Guide
https://en.visitwakayama.jp/
---